"Life is like a box of chocolates, you never know what you're going to get." -Forrest Gump
Yeah, you're seeing right: A chocolate dessert café.
Oh and trust me, it does not disappoint.
It was yesterday when my friend James and I were looking through Takapuna for a place to eat. We wanted somewhere that was ideally not too expensive (as my no.1 rule is to avoid spending money on food), and also served something relatively substantial to fill our stomachs before our trip to the cinema to watch the recently released Jurassic World. 
I might add that the movie was in fact great despite the occasionally irritating parts when the main female character would run in her heels through the copious amounts of mud and rubble, a skill that hardly any women can fathom even on a good day. It would have been much more believable if she had discarded her heels, because frankly, who needs heels when they are running away from a genetically engineered dinosaur set out to kill you. Come on Hollywood! Maybe it's just me.
In the end, James and I deliberately went against our inclinations to not spend too much money as we paced towards the Chocolate Drop Dessert Café, mentioning how we both have been meaning to check it out. It was at this point that our lunch destination had been decided. Very healthy, I know. I wasn't quite sure what to expect, something chocolatey obviously, but just by checking the menu of cookie sandwiches, waffles, puddings and some savoury options, we were immediately sold.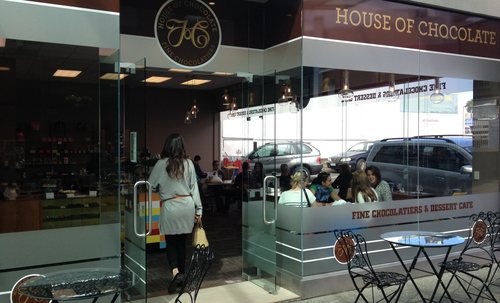 Upon entering, the interior of the place immediately gave an impression of cuteness in that it took on quite a mix 'n' match, homemade type of aesthetic with its mismatched tables and chairs and shelves on the wall with different ornaments of various descriptions. I think one of the things that I loved most about the place was the large walls of windows on two perpendicular sides of the single roomed café. Despite the lack of a particular attractive view through these windows, they allowed a huge amount of light into the room as the fleeting minutes of sun exposure shone over us, reflecting off the mismatched surfaces with a delightful warmth, consequently causing us all to squint a little.
The real challenge here was choosing an option from the menu. James was set upon waffles…then a chicken sandwich…then waffles again. I knew what I was going to choose as my eyes steadily held upon one of the most expensive plates (as always!), the Dark Chocolate Fondue ($17). It looked as though the idea of spending a minimum amount of money was out of the window. It's much harder to do in practice than it is to just say you're not going to spend much. That's always the case, am i right? Anyway, we eventually ordered the chocoholic waffles and an iced chocolate for him and the fondue for myself. Yum!
It was hilarious when the two plates arrived about 10 minutes after we had ordered and we were struck silent as they were placed in front of us. Not in the way that you politely stop mid-conversation in order to thank the waiter, no, this was more of an exulted silence, the silence that means we had definitely chosen the right place to eat that day. It was funny because as the waiter began to walk away he stopped, concerned. He asked if everything was alright judging by our silent exchange of glances, but we quickly assured him that everything was fine, in fact it was more than alright. Honestly, I was contemplating whether my new, clean clothes would make it out unscathed, but I was willing to take the plunge…into chocolate that is. Although it was a touch-and-go for a few parts of the meal as you can see me checking in the picture below, I did manage to leave the cafe with all of the chocolate in me than on me.
My fondue was very simple really, especially for a price tag of $17 but there was a plentiful selection of dipping materials such as banana and apple pieces, brownies, cookie pieces and of course marshmallows. I was one happy bunny as I'm the kind of person who likes to play with my food a bit. James' waffles were something to behold. They didn't lie when they called it "choco-holic waffles": multiple scoops of chocolate ice cream, drizzled with chocolate sauce that had hardened on the top, lying on a bed of whipped cream and waffles. This paired with an Iced Chocolate, which if you have tasted the Whittaker's chocolate milk you will know what this tastes like; it was as if heaven itself had been liquified and put into a glass, or more likely that it was the result of an entire bar of chocolate had been melted and mixed with milk and cream to create this wonderful abomination. I present to you: diabetes in one serving. I apologise to James' mum for allowing him to order such a thing for lunch. 
I took a new outlook on the chocolate fondue in front of me and proceeded to recreate the infamous "s'more", using cookie pieces instead of the classic Graham Crackers, and melting the marshmallow above a small tea-light provided to maintain the liquid form of the dipping chocolate. I like to think that it was quite an innovative idea as the lady sitting at a nearby table watched on as I calmly set fire to my marshmallows in order to attain the perfectly gooey centre required for my S'more creation. When I ran out of decent sized cookie pieces, I did the same but with pieces of banana. Oh how I do love to create!
Other than the menu, the café also sells ice cream and individual homemade chocolates in a most delicate, little mouthful. It is these little indulgences in life that keep us going and if you don't like chocolate…then how about some Eton Mess or perhaps a nice Vege Tart.
In short, which may be a little too late to say it now: if you like chocolate, you'll like this place for sure. If not, come anyway! It's not all chocolate covered! Those most of the best things in life sometimes are.
Want to check it out yourself? There are two stores, one in Takapuna and another in Beach Haven:
Takapuna:
Century Way,
Shop 5,
62-78 Hurstmere Road,
Takapuna,
Auckland
Beach Haven factory shop and cafe:
15 Sunnyhaven Ave,
Beach Haven Village,
Auckland
To check out their website click here.
I hope everyone had a wonderful weekend.
Much love.
Evie x